Kevin Bates was one of the finalists in the Essex singles finals in Westcliff-on-Sea against Edward Morris. Having got to the finals they progressed through to playing in the National finals at Royal Leamington Spa against other counties. This was a knockout competition played over two days. Very special for Kevin as it's quite an achievement to actually play there. Kevin's first game was against a player from Northumberland, Chris Yeomans, someone who has over the years played at a national level.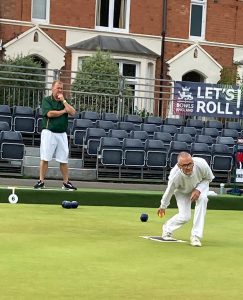 Kevin started off slowly, with Chris taking the lead. During the game Kevin played well, making some good shots, occasionally surrounding the jack, only to have his woods knocked out! He did come from behind to nearly catching up at one point. However it was not to be and he eventually lost the game 21-13.
It was exciting to be there watching someone taking part at this impressive competition.
We did manage to watch other Essex players play on the Thursday between downpours…It just added to the fun!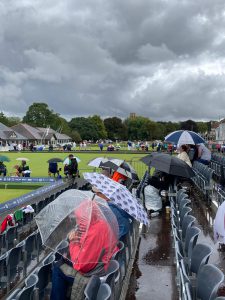 The competition was eventually won by Edward Morris – the player that Kevin had met in the Essex final.
Sue Bates