The club had two chances at a trophy in the 2023 Walthamstow and District Finals – and took them both.
Mixed Triples Final
First up were the trio of Sue Bates, Fitzroy Johnson and Kevin Bates, facing Connaught in the final of the mixed triples. They were behind from early in the game but began to catch up to make it 16-13 behind with three ends to go.
The sixteenth end did not help their cause, dropping two to go 18-13 down with only two ends to play – and therefore needing to score five points to tie and force an extra end.
Holding two with Kevin's last wood to play he fired at Connaught's only wood in the head, taking it out… and one of our own. But it still left a count of four, leaving them at 18-17 behind and only one behind going into the last end.
Sue drew two good woods, putting the pressure on Connaught.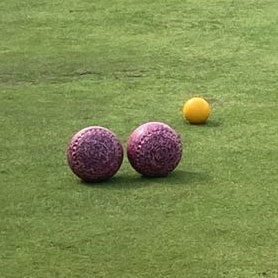 Her third was long, trailing the jack into a more open position, and the number two drew and excellent last wood to leave Connaught holding one and enough to win the match.
Another Kevin Bates special arrived at the head. pushing Connaught's wood out and leaving WBAP with three. With a congested head it stayed that way and the club took the last end to win by 20 points to 18.
Pairs Final
Kevin Bates was on again in the afternoon, this time paired with Karl Bunyan against a strong due of Tim Mould and Jim Wilson.
Things started badly despite some decent bowling and the Borough pair found themselves 8-0 down after seven ends.
Luck can change quickly in bowls, though, and some excellent woods from Tim Mould still yielded nothing and the Bates/Bunyan pair picked up their first score of the game – a five!
Ends were shared from then on with both teams having their fair share of bad luck, and despite the WBAP pair scoring slightly more and pulling out a slender two-point lead with three ends to go it was all square at 16-16 going into the last end.
It still could have gone either way but Karl's wood was holding shot as the skips took to the other end. Tim had a side wood to try and get the edge of, but just went outside of it before the hand became more congested.
With his last wood Tim was forced to play with a little more weight and hope for a little more luck, but the front woods split rather than rolling through and Bates and Bunyan held onto the single shot to win 17-16.