It was an incredible feat for both Mark and Chrissie and Kevin and Sue to reach the knock out stages of the August Bank Holiday Sunday pairs tournament at Orford House.
Mark and Chrissie showed great form all day and saw off their quarter final opponents convincingly, while Kevin & Sue took on the youngest pair of the whole competition for a very tight victory. Unfortunately the semi finals were the end of the road for both teams, but to get two of our teams to the final four was amazing!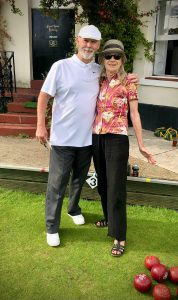 There were twenty-four pairs in total for the competition with seven pairs from Walthamstow Borough and Aveling Park: Kevin and Sue, Fitz and Bob B, Colin and Tessa, Mark and Chrissy, Junette and Judy, Andrew and Andy, Bob S and Martin all eager to do their best. Junette and Judy and Andrew and Andy missed out going through from the groups by 1 point!
The beautiful Orford House setting, a lush green, fantastic facilities, glorious weather, scrumptious BBQ lunch and non stop bowling all made for a fun filled, team building day with everyone supporting the players to the very end. A BIG shout out to the organisers who did a great job with the format and made us all very welcome.